FESTIVALS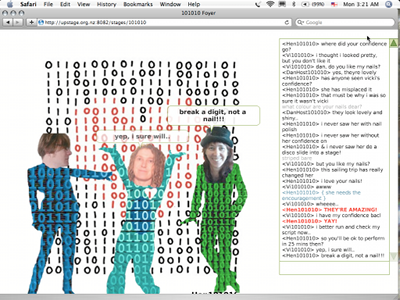 In 2007, the 070707 UpStage Festival was held to mark the release of UpStage V2. It took place on 7 July, ran for 10 hours and featured 13 performances by artists from New Zealand, Australia, the Netherlands, Germany, the UK, Finland, Serbia, the USA and Canada. All of the shows could be watched online, and they were screened at the NZ Film Archive in Wellington, New Zealand. The festival had not even finished when people started talking about "next year …"
And so, the UpStage festival became an annual event for six years, climaxing with the massive 121212 Festival of Cyberformance. You can find information and documentation of the festivals from the links below and showreels here.
| | |
| --- | --- |
| | "The potential of theatre and drama combined with live network media art is largely underdeveloped and unknown. With the global UpStage festival this art form is pioneered and brought to the public." René Paré, MAD Emergent Art Centre, Eindhoven. |
101010 UpStage Festival Preview from UpStage on Vimeo.
Some festival statistics
For those of you who like to know the numbers, here are some (scroll down for 11:11:11 and 121212):
070707
080808
090909
101010
shows:
13
13
14
17
artists:
25+
34+
42+
53+
countries:
Australia
Belgium
Canada
Finland
Germany
Greece
Netherlands
NZ
Serbia
UK
USA
Australia
Belgium
Canada
France
Germany
Korea
Lebanon
NZ
Serbia
Turkey
UK
USA
Australia
Austria
Belgium
Canada
France
Germany
Italy
Netherlands
NZ
Norway
Poland
Serbia
UK
USA
Australia
Austria
Belgium
Canada
France
Germany
Korea
NZ
Serbia
Sweden
Tonga
UK
USA
nodes:
Wellington
Los Angeles
Munich
Oslo
Wellington
Calgary
Eindhoven
Graz
Istanbul
Munich
Nantes
Oslo
Pancevo (Serbia)
Surrey (Canada)
Wellington
Auckland
Belgrade
Calgary
Graz
Eindhoven
Ho Chi Min City
Ljubljana
Milwaukee
Nantes
New York
Oslo
Pancevo
Wellington
11:11:11
121212
10th Birthday
shows:
11
32
6
artists:
30+
100+
11
countries:
Canada
Germany
Italy
Netherlands
New Zealand
Scotland
Serbia
UK
Argentina
Australia
Brasil
Canada
Chile
Finland
France
Germany
Greece
Japan
Netherlands
New Zealand
Portugal
Serbia
Sweden
UK
USA
France
Germany
Greece
Italy
Netherlands
New Zealand
Portugal
UK
nodes:
Coimbra
Eindhoven
Greymouth
Hari Hari
Munich
New Pymouth
Oslo
Rotterdam
Second Life
Zagreb
Amherst
Buenos Aires
Christchurch
Coimbra
Eindhoven
Exeter
Holstebro
Linz
Montpellier
Nantes
Oslo
Pancevo
Wellington
Eindhoven
Munich
Wellington