The fourth annual festival of performances in UpStage will be held on 10 October, 2010, featuring a record 17 shows made by more than 50 artists from around the world. 101010 began at 8pm New Zealand time on Sunday 10 October and ran until 4pm the next day (with a break in the middle).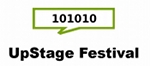 There were 13 RL access nodes in locations including Wellington and Auckland (NZ), New York (USA), New Hampshire (USA), Oslo (Norway), Nantes (France), Ljubljana (Slovenia), Calgary (Canada) and Vietnam.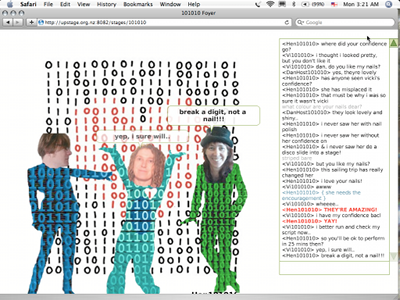 Supporters

The 101010 UpStage Festival is supported by the voluntary efforts of many people, most especially the adventurous, innovative and imaginative artists creating the performances, and the enthusiastic organisers of the RL access nodes. THANK YOU!

The festival is also supported by Creative New Zealand, CityLink (providing free server hosting and traffic), Auckland University of Technology (software maintenance and development) and Stray Media (video editing and support).