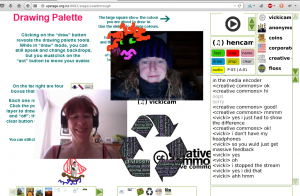 The UpStage team offers online or on-site workshops to introduce groups and individuals to the concept of cyberformance, how to use UpStage, creating graphics for UpStage and devising performances using UpStage. Workshops are customised according to each group's needs.
"There is no better arena or forum for students to learn the beginning steps of virtual theatre than Upstage." Nancy Reilly-McVittie, senior lecturer, Manchester Metropolitan University.
To learn about UpStage:
Workshops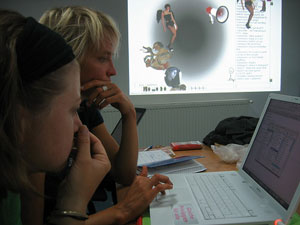 A basic introductory workshop can be as short as two hours; a longer workshop of 15-20 hours will include devising and presenting a short cyberformance.
Technical requirements for workshops are an internet-connected computer and headphones for each participant, and a data projector and screen for the workshop tutor's computer. UpStage uses specific ports which may need to be opened if the internet is being accessed through a firewall – this must be tested beforehand.
To request a workshop or for more information, email info@upstage.org.nz
Online Workshops
For several years, we held open walk-throughs on the first Wednesday of every month, where new people can learn how to use UpStage and those who come regularly have an informal jam together. Lately we have been too busy to do this quite as regularly, but open sessions are still held. Dates and times are advertised on this site, and you can join the Announcements list
to be sure to know when one is coming up.
We can also teach workshops remotely, and have done so for groups in the UK, USA and Europe. Remotely-taught workshops have ranged from two-hour introductory sessions to a full day or a number of shorter sessions over several days.
"After your workshop, we had a really rich dialogue about the relationship between the virtual and real spaces of theatre – what is possible, what is not. As a result, I would like to offer UpStage as one of the performative environments that the students in my intro course next quarter can create performances within."
Adriene Jenik, Associate Professor, Computer & Media Arts, Visual Arts Dept., University of California, San Diego
Recent Workshops
Online workshop for the University of South Wales, January 2017
We have a situation, Coventry! – workshop process leading to cyberformance and discussion event, Coventry University, November 2016
We have a situation! – ongoing project using UpStage for cyberformance and discussion around contemporary issues, including workshops in creating UpStage performances (since 2013)
MagFest Torino: three afternoons learning UpStage basics, how to create avatars and using the internet in theatre performances (December 2010)
Libre Graphics Meeting: 2-hour hands-on session covering UpStage basics (May 2010, Brussels)
Machine Divas: a week-long artists' workshop culminating in a performance which was presented at the Kunstraum in Vienna and again at the 090909 UpStage Festival (July 2009)
Norsk Telemuseum, Oslo: workshop with a teenage improv theatre group, who went on to present a performance at the 090909 UpStage Festival (June 2009);
TUANZ Education Conference: an introductory workshop for Primary, Secondary and Correspondence teachers (March 2007);
UCSD Computer Arts Students: a 2 hour online introductory session (February 2007);
Whitireia Polytechnic Performing Arts Students: 12 hour extra-curricular class which resulted in two short performances (November 2006);
Dunedin Fringe Festival: a 5 hour session during which participants devised and performed a short "opera" and choreography (October 2006);
Eclectic Tech Carnival: remotely taught introductory sessions at a women's tech festival (Amsterdam, 2008; Linz, 2007; Romania, September 2006; Graz, 2005);
SCANZ: sessions with participants at a group residency (July 2006);