To contact the UpStage team, email info [at] upstage.org.nz
To receive announcements about regular events such as the monthly open sessions, join our Announce list.
If you are a programmer and would like to get involved in the project, please email info@upstage.org.nz and also join our Developers' list.
The UpStage Team
Helen Varley Jamieson: originating artist, project manager, festival architect and co-curator
Vicki Smith: originating artist, designer, workshop facilitator, festival architect and co-curator
Gloria W.: lead developer (2021-), backend developer (2020-2021)
Paul Rohrlach: developer, server administrator (since 2010; lead developer 2010-2021)
Elisa Godoy de Castro Guerra: website and interface design (from 2020)
Nguyen Hong Phat: front-end developer (2021-2022)
Past Team Members
James Liew: front-end developer (2022)
Tu Nguyen: front-end developer (2022)
Tuyet Giang: front-end developer (2022)
Riad Salameh: interface design assistant (2021)
Martin Eisenbarth: developer, audio-visual streaming (2013-14)
Francesco Buonaiuto: archivist (2009-2015)
Karla Ptacek: originating artist
Leena Saarinen: originating artist, web design
Douglas Bagnall: original software developer (v1 and v2)
From 2006-2019, teams of students from Auckland University of Technology worked on UpStage for their final year assessment project. The AUT partnership was developed through Anne Philpott and has been very beneficial to the ongoing development of UpStage – thanks heaps!
Contributing students as developers: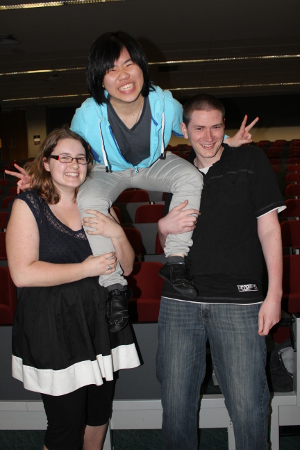 Hamish Maritz, Jialiang Liu and Tsz Fung Ho (2018-19); Francis Villaflor and Max Butchard (2018); Alex Glenn, Thong Teav and Charlie Wang (2017-18); Joe Earley and Kit Lai (2017); Jason Mills (2016-17); Keenen Leyson and Minju Park (2016); Jing (Kelvin) Han, Joshua Kartono and William Stokes (2015-16); Siatua Uili and Alyssa Byun (2015); Gaoxin Huang, Charlotte Peterson and Yue Li (2014-15); James Williams, Takuma Sato, Mikhail Chen (2014); Vanessa Henderson, Nikos Philips (2013-14); Lisa Helm, Nitkalya Wiriyanuparb and David Daniels (2013, pictured at right); Scott Riddell, Gavin Chan and Craig Farrell (2012-13); Benjamin Qin and Daniel Han (2012); Nessa Baterina, Karena Goh and Corey Robb (2011-12); Heath Behrens and Vibhu Patel (2011); Mohammad Al-Timimi, JR Malonzo and Henry Goh (2010-11); Tom Choi, Paul Rohrlach and Craig Farrell (2010); Natasha Pullenster, Nicholas Robinson and Shaun Narayan (2009-10); John Coleman and Vishaal Solanki (2009); Shaun Nesbitt, Wendy Wen and Candy Yang (2008-09); Aaron Barnett (2008); Alan Crow and Tony Wong (2007-08); Endre Bernhardt, Lauren Kilduff and Phillip Quinlan (2007); Beau Hardy, Francis Palma, Lucy Chu and Wise Wang (2006-07).
In 2014 a team of student web developers from AUT designed a new web site for the project, under the tutelage of Gisela Klette. They are: Fan Yang, Matt Jiang, Scott Bakewell and Albin Cyriac – thanks team!