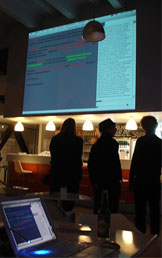 The launch of UpStage 2 was celebrated with a festival of performances in UpStage on July 7 2007. Thirteen performances were presented by artists from around the world, performed online for audiences around the world and at the New Zealand Film Archive. Click here for a showreel from the festival.
"A good many of the pieces were rich with artistic expression, as well as thought-provoking."
Stephen Bell, Computerworld.
Guest artist puppeteer Rebekah Wild worked with Vicki Smith to develop and perform Baba Yaga, and their stage was the basis for the Puppets to Pixels UpStage Exhibition, 28 June to 14 July, online and at the New Zealand Film Archive. Visitors to the exhibition had a hands-on experience of UpStage, creating their own performance with Rebekah's graphics.
Media and Links: