October 2021: new UpStage launched!
UpStage has been completely rebuilt and the new platform launched on 15 October 2021 – get involved now to contribute to this exciting project!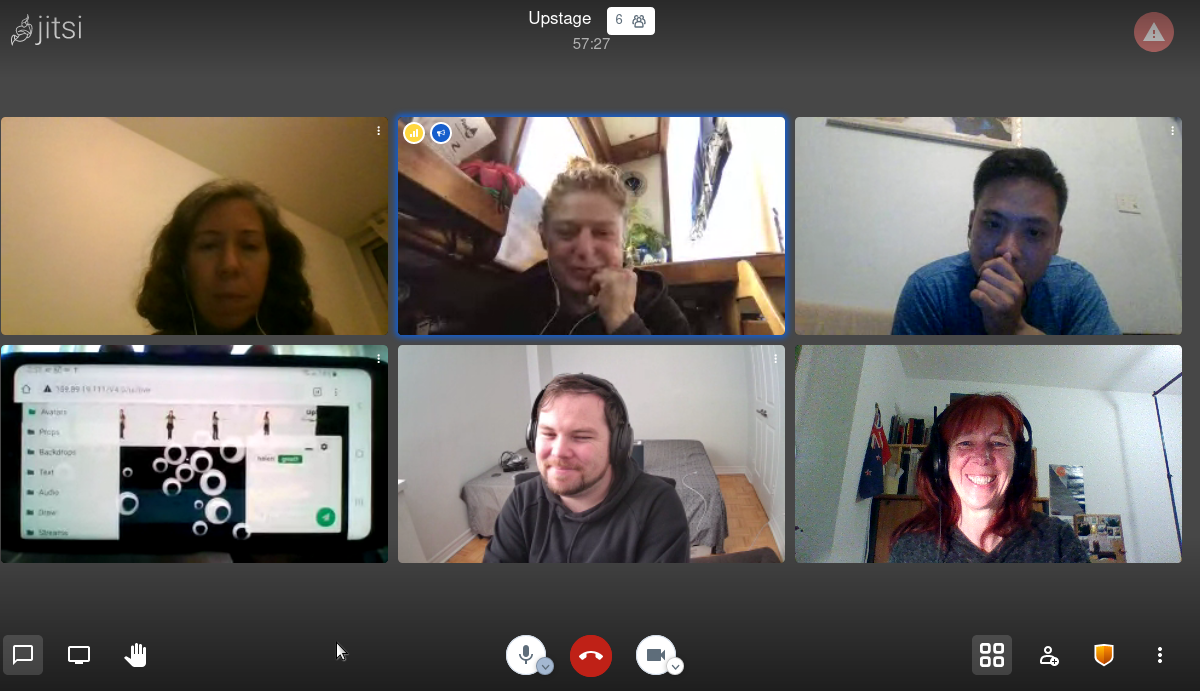 As part of the Creative Europe funded Mobilise/Demobilise project, the new platform functions on mobile devices as well as desktop computers (no longer dependent on Flash) and incorporate other enhancements. Read more here.
Development team
Having been our lead developer since 2010, Paul Rohrlach has now handed that honour over to Gloria W. Also in the development team are Nguyen Hong Phat, Elisa de Castro Guerra, Riad Salameh and Marina M.
UpStage is an open source software development; we welcome any interested developers to join the team.
How to get involved:
Developers' Blog
Another release … April 16, 2022

Our amazing developers are releasing so often that it's hard to keep up! Today's release is UpStage v1.19.0 – code-named Rheineck-19, and as well as some security fixes and geeky back=end stuff, here's a summary of the things that artists creating UpStage will want to know about:

LGM 2021 – Recording April 13, 2022

Here's the recording of a talk given by Helen and Gloria at the 2021 LGM.

UpStage at FOSSASIA Summit 2022 April 7, 2022

On Saturday 9 April, co-founder Vicki Smith and developer Nguyen Hong Phat will present an overview of the UpStage rebuild at the FOSSASIA Summit 2022.

This lightning talk will gives an update from our presentation at FOSSASIA 2021 when the rebuild was just beginning; since then it has been completed and launched in ...

Latest release December 10, 2021

The latest update to the UpStage code includes the new Studio!

Changing of the Guard November 29, 2021

Paul Rohrlach passes on the lead developer baton to Gloria W.