To transgress is to go beyond a limit, and these cyberformances cross different borders in different ways – questioning, challenging, provoking. Step out of your comfort zone and into these shows:
---
Temporal | Trajectory | Tendrils | Transgress
---
A little online communion
Bishop Bishop (Sheila Bishop), Josh Cajinarobleto & Mitzi MIze (USA)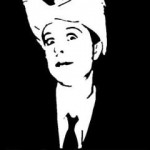 As part of Bishop Bishop's Mission to save the whole wide world and little old you, Bishop Bishop (Sheila Bishop), with the help of her Sinister of Music (Josh Cajinarobleto) and the Best Worse-Up Leader in the South (Mitzi Mize), takes UpStage and space and time to spread a communicable dis-ease. During this (e)Mission, there will be crier and whit-stone preaching, uplifting shyms (hymn plus sh …), sonic sermonizing, pixel-tual and textual meditations, ill-luminating images and some sort of sublime something or other.
---
Plaice or Sole
Francesco Buonaiuto, Mario Ferrigno and Simona Cipollaro (Naples)
This performance contains some adult content.
Two leviathan fossils are found under the sea of Utopia. Everyone rushes to the Science Museum to look at these abyssal creatures. An eclipse suddenly darkens the sky. The two leviathans, in the dark, come back to life …