Twisting and turning through your synapses, these cyberformances will weave intricate webs of thoughts and concepts for you to ponder and enjoy:
---
Temporal | Trajectory | Tendrils | Transgress
---
MASS-MESS
Katarina DJ. Urosevic & Jelena Lalic (Serbia)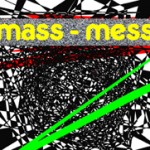 The meaning of the symbols encoding a message is completely irrelevant, though a binary digit may represent the toss of a coin or the fate of the universe. A value regardless of the contexts in which it was embedded. Conceived in this way information was independent of context, a probability function with no dimensions, no materiality, and no necessary connection with meaning. Through the study of structures mass media and independence in hierachy of information, without center, looking for a ways how to strike a balance between reality and fiction, and how in the conflict of contents find essence of the narrative …
---
"S/Zports: A Training for the Possible Wor(l)ds"
Miljana Peric, Julijana Protic, Jelena Milosavljevic-Rubil, Goran Rubil (Serbia), Andrea Ass (Germany) & Suzon Fuks (Australia)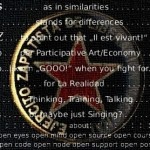 In the support of the everyday visible, invisible, noisy or quiet struggles for developing alternative social relations! As the sub-port for the cyberLettristic initiative! Several training acts for passing through the contexts of Seeing vs. Zapping of meaning events will take space! During the process of decomposing the problem/notion that traditional warship's enslaving is re-placed with sport-industry-caused-spectactors'-passivity, we will take active part in the battle: Team of Letters vs. Army of Words. Our détournement starts like this: S as in Situations – "/" stands for differánce – Z is for Zooming into the P (which re-presents the Participative Performing) – O symbolizes all kinds of Oppositions – R starts the re-vocation of Rimbaud's words: "Real life is absent. We are not in this worLd." – T begins the Training event – S/$ = to Sign or not to Sign to it? – the ":" is for etc. And so on.
---
make-shift
Paula Crutchlow (UK) & Helen Varley Jamieson (NZ/Germany)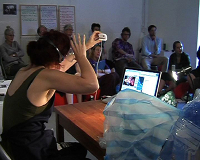 This is a work-in-progress showing, presenting excerpts from a performance that premieres on 5 December. In the full performance, the two artists will be hosted in separate domestic spaces, performing for an audience gathered by the host (the resident of that house). Using internet technologies including audio-visual conferencing tools and the cyberformance platform UpStage, the artists will connect the two homes/performance spaces and thus create a third, discursive space. Audiences will be drawn into conversations across and between all three sites to explore shared issues and concerns centred around political aspects of domesticity and globalisation, creating shared experience and discussion across language and culture.
Download the media release and visit the make-shift web site for more information.
---
Theatre of Exchange
Nathalie Fougeras (France/Sweden) & Malin Ståhl (Sweden/UK)
Location: LAB gallery, Sollefteå, Västernorrland, Sweden
Nathalie Fougeras and Malin Ståhl will be in residency at LAB gallery for a collaborative art based session. An online UpStage session for the 101010 (10 October 2010) will take place online following the parameters of the 'Theatre of Exchange':
Theatre of Exchange:
[1] dreams
[2] thoughts
[3] visions
[4] random choices
[5] quotes
[6] freedom (from the above four)
[7] genetic process
The 'Theatre of Exchange' takes it's point of departure in the artist's online exchanges (via mail and skype) and will find physical form at the LAB Gallery during the week of 7 to 15 October. Between 7 and 14 October we will invite people (online and in situ) to look, listen, influence and participate in the 'Theatre of Exchange' performance. During the vernissage 15 October the work will be taking a more formal manifestation and will be open to the public. We envision the 'Theatre of Exchange' to develop into a scene or arena, with a script drawing inspiration from what we choose to tell each other in the process of establishing and developing our collaboration. We are exploring ideas of recording a TV-soap or making a radio show and to use improvised theatre in that process.
---
Aquifer Fountain
ActiveLayers: Cherry Truluck (UK), Liz Bryce (NZ), James Cunningham and Suzon Fuks (Australia).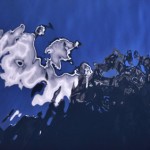 Short videos inspired by water in our immediate domestic, environmental and cultural surroundings (London, Brisbane and Bay of Plenty, New Zealand). Sound bites from news, movies and documentaries on emotional, geological and recreational connections with water from other parts of the globe. Photos from personal memories and travel. These media form a background for open audience interpretation and discussion on water – aquifers – the moving currents underground.
Aquifer Fountain is a feeder to the VIRTUAL FOUNTAINS project. Virtual Fountains will allow people interested by WATER access to an online creative platform: THE WATERWHEEL & THE TAP (to be launched early next year)
---
Nino, Nina – Nin. that's who I am
Text: lilly axster (Vienna, Austria)
Creator: helga hofbauer (Vienna, Austria)
Co-players: eva haefele, johanna schaffer, juliette_valentin emerson, lisa udl, renée winter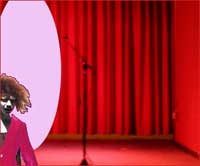 Little play of a non gender identified youth who asks questions around to all present about gender and love.
…
"When i am in love with somebody how could that go?"
"Can you fall in love no matter who you are?"
"And do all of them need to be of the same gender?"
…
genderqueer meeting on UpStage.
avatars meet, talk, shout, think, dress up, chat, play music and even make a demonstration.
View an edited version of the screen recording of this performance.