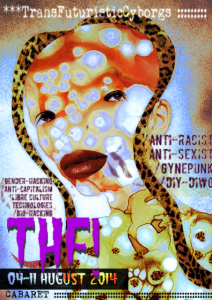 What is TransHackFeminism? This has been a topic of discussion at the Eclectic Tech Carnival, happening now at Calafou, Spain, and is also the theme for an UpStage jam as part of the closing cabaret.
The performance will be on SATURDAY EVENING (previously adverised as Sunday) 9 August, starting at 22:00 European time. Find your local time here.
CLICK HERE TO ENTER THE STAGE.
Workshop participants at Calafou are learning how to create media for and use UpStage and developing ideas for the performance. Remote participants will join on the night for an improvised performance – with the usual audience interaction from the chat window. Come along and contibute!