The selection of performances for the 080808 UpStage Festival will be announced on 3 June 2008.
Thursday 4 October, 4pm, Graz, Austria (find your local time here). The popular cyberformance "Please Stay Alert At All Times" gets another airing this week, this time at a festival in Graz, Austria. And this time it will include more improvisation as it will be […]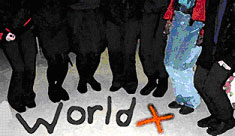 World X was a virtual exchange project using UpStage, between a group of young people from Eltham Hill Secondary School in London, England, and from Westland High School, Hokitika, Aotearoa/New Zealand. It took place in the first half of 2004.