There were 13 RL (real life) access nodes for the 101010 UpStage Festival (click here to jump down to a list of the nodes and operating times).
RL (real life) access nodes are held in conjunction with the UpStage festival to provide venues for proximal audiences in some locations. RL access nodes are physical venues that host screenings of sections of the festival. In the past these venues have included galleries, museums, theatres, university lecture rooms and public libraries, located all over the world (usually it's a space that's open to the public). If you'd like to find out more about what's involved in hosting a node, click here.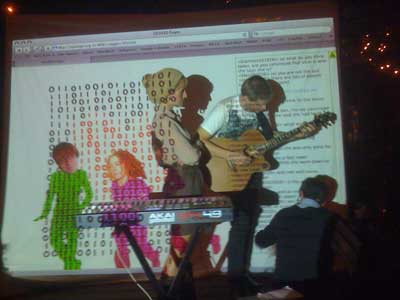 Node at Le Petit Versaille, New York, 10 October 2010

101010 Nodes (times shown are local times):
Tempo Festival – Auckland, New Zealand: 8pm – 10pm Sunday 10 October
New Zealand Film Archive – Wellington, New Zealand: 10am-5pm Monday 11 October
Le Petit Versaille, New York: 3pm – 11pm Sunday 10 October
Norsk Telemuseum – Oslo, Norway: 2pm-6pm Sunday 10 October
AP033 – Nantes, France: 9am-6pm Sunday 10 October
Temporary Art Centre – Eindhoven, Netherlands: 2pm-5pm Sunday 10 October
Schaumbad Freies Atelierhaus – Graz, Austria: 4.30pm-11pm
Galerija Elektrika – Pancevo, Serbia: 10am-12 midnight Sunday 10 October
Museum of Science and Technology – Belgrade, Serbia: 10am-10pm Sunday 10 October
Syneme, Calgary, Canada: 2-4pm Sunday 10 October
Ljudmila Laboratory, Ljubljana, Slovenia
FOSS Asia, Vietnam – from 7pm Sunday 10 October
University of Wisconsin – Milwaukee, USA – from 1.15-4pm Sunday 10 October.
Click here for a map showing where in the world all the nodes are.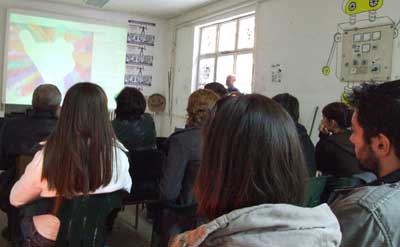 101010 node at Galerija Elektrika, Pancevo, Serbia