RL (real life) access nodes are held in conjunction with the UpStage festival to provide venues for proximal audiences around the world. The nodes are physical venues that host screenings of sections of the festival. In the past these venues have included galleries, museums, theatres, university lecture rooms and public libraries, located all over the world (usually it's a space that's open to the public).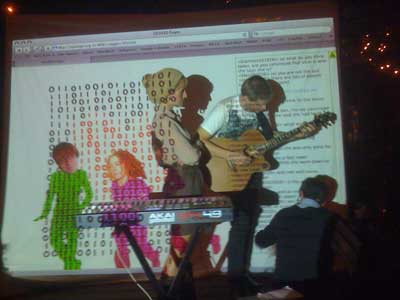 Node at Le Petit Versaille, New York, 10 October 2010
Hosting a node for the UpStage Festival is not difficult, and it can be an innovative addition to your organisation's existing programme or a great one-off event.
You need:
a stable broadband internet connection: it doesn't need to be super-fast, a standard broadband connection is fine. You will need to check the network in case additional ports in the firewall need to be opened (the check can be done simply by accessing a stage from within the network, and if ports do need to be opened this takes only a few minutes for a technician to do);
data projector (beamer), screen or projection surface, and good computer speakers or sound system;
computer for projector: a standard computer with a standard browser and the Flash player plug-in installed. This computer needs to be accessed by someone who can navigate from one stage to the next (this just requires clicking on a link);
someone to "host" – to say a few words about UpStage at the festival at the beginning and invite the audience to use the audience computers if you have them. If your node is in a gallery or museum situation this person may be someone who works there who can provide information and assistance to visitors about UpStage and the festival;
and, ideally, 2-3 audience computers, or the ability for audience to be online with their own laptops: if you can't provide this you can still host a node, but it greatly enhances the experience for the audience if they can also be at the keyboard and interact with the artists and online audience.
Additionally, nodes usually promote the event through their own channels, such as their organisation's web site and mailing list, and perhaps print material as well. We can provide logo, images and text copy if you need it. We are also interested in any ideas you may have for integrating UpStage into existing programmes.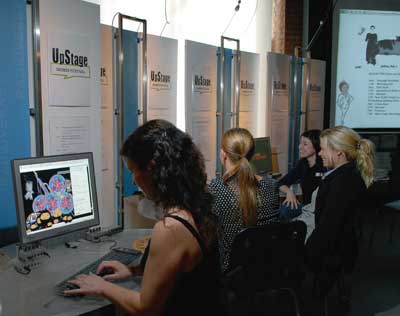 Node at the Norsk Telemuseum, Oslo, 2008. Photographer Cato Normann
Nodes choose what times they will operate; some galleries and museums have operated their node for their opening hours on the day of the festival while other nodes have selected a specific couple of hours that will be the best time for them to get an audience. We take the nodes' operating hours into consideration when we schedule the performances, but we also have to take into account the many time zones of the performers, so it's a tricky business!
We provide A2 information panels about UpStage and the festival that nodes can print out, if they have the resources, and display at the venue. Some nodes have also organised other activities such as performances, workshops or exhibitions in connection with the festival. It is up to each node, and their resources, how they want to present the festival.
If you have any other questions about being a node, or would like to offer to host one, please email info@upstage.org.nz
Munich node, photo: © 2008 by um