The following performances have been selected for the 090909 UpStage Festival (click here for the schedule of performance times):
---
"Salvation"
Marlena Corcoran (Germany) and Antoinette LaFarge (USA); sound editing by Tara Rebele (USA)
Premiered at Fondazione Querini Stampalia, Venice, 20 May 2008.
"Salvation" brings together stories of rescue and redemption at the crossroads of land and water, New York and Venice, heaven and earth, literature and technology. Original lyrics in English feature the story of a woman who almost drowned in New York harbor, and the story of the wedding of the Venetian doge with the sea. In the background, we hear a man intone in Italian the instructions for what to do if someone falls overboard from a vaporetto: cast a life-saving ring into the sea. The ferry boats that rescued the passengers of the plane that landed in the Hudson River are hailed by the tolling bells of the Venetian Church of the Redeemer.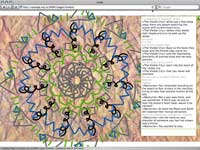 "Lines"
Ben Unterman & Daniel Silverman (Canada)
This script, a creation of Vancouver writer Daniel Silverman, is a meditation on life in the city. It reintroduces us all to the wonders of discovery and the beauty to be found in the interwoven lines of the concrete jungles in which we live.
"Durito's Dancing Box Manifesto: the @heoretical Cyberformance for/of Zapatismo"
Miljana Peric, Julijana Protic & Teodora Peric (Serbia) & Suzon Fuks & James Cunningham (Australia)
Durito's Dancing Box … ad-vocates the neverending constitution of an A-theoretical cyberformance fluxes, with special relation to the digitalized Zapatistic artivism. In some way, its conceptualization arouses from the famous Goldman-Meltzer contradicition, as is based through their two sentences: "I don't want to be a part of your revolution if I can't dance", and "If we gonna just to dance, that won't be my revolution." In other way, … Manifesto will reveal one possible theoretization of some UpStagers' searchings that are turning the looking glass of art theory and practice, spinning them to see from the other side, around and around… So, in short: This play is a manifestation of (not just) Zapatista cyberdancing, which is happening just now. In parts.
"4th Wall"
Tara Rebele (USA), Miljana Peric (Serbia) & Suzon Fuks (Belgium/Australia)
11:11 PM and Still Untitled is a poetic, abstract, participatory performance. Part live intermedia cyberformance exquisite corpse, part virtual poetic installation.
This work will explore the poetic, lyrical, polyvocal, participatory possibilities of cyberformance in UpStage—collaging organic/abstract visuals, sound, poetic text and audience participation. Striving for absolute removal of the virtual 4th wall, the audience's textual contributions will be as necessary as the performers' in the creation of an ephemeral, interactive, poetic, performance installation in UpStage.
"Snow White and the Seven Chihuahuas"
Kristin Carlson & Sheila Paige (USA)
An Interactive Theater Piece in which Time Runs Backwards
As the first scene opens, the clock begins to tick backwards. An ancient crone/practitioner of the black arts faces her mirror. Who is the fairest of them all?, she croaks. We have met Snow White, corrupted by a long lifetime of unchecked power and narcissism. Each scene in this cyberformance concludes with a request to the audience to determine Snow White's fate.
"The Dish"
Katarina Djordjevic Urosevic & Jelena Lalic (Serbia)
"One butterfly moves its wings and a tsunami happens "
The dish as a metaphor, is a place outside the traditional time and space, a place that has a specific Temporal time, composed of digital fragments, a place of the Newspace, Hyperspace, PARAspace… Virtual kitchen is a transition from metaphor in metamorphosis, for example, nature is a metaphor for artists who study substance of inner life, while the metamorphosis establishes principle of reification, i. e. synthesized images that are not real but of pseudo-simulation. Virtual kitchen is a reflection of SF presence (actuality) because the past images are mix of various media simulacra, stories, discourses. Subject has become another utopia such as history…
"At Home with Mr & Mrs Smith"
The Catastrophic Primadonnas (UK)
Mr and Mrs Smith would like to invite you for dinner and aperitifs.
Loosely inspired by Ionescu's Bald Primadonna, this cyberformance invites audience participation to explore the random and meaningless nature of polite conversation. Using a variety of performance and technical techniques, the performance will explore the etymology (in its Greek meaning of "true sense of the word") of the unsaid.
"User Profile"
Meliors Simms (NZ)
"I am a thousand years old and I will die a thousand years before I was born. This is the story of how I came back from 4000CE to your present time where I now inhabit the internets."
"Karen Karnak"
Karen Karnak (global)
Karen Karnak explores a land of petroleum relics; where strange creatures wrapped in pseudo-synthetic cloaks reminisce over half remembered myths from the plastic age. More information here.
"Global Karaoke"
Viadro Project (Poznań/Kraków, Poland)
Global Karaoke is audio-visual performance inspired by popular culture. During Global Karaoke we'll mix pop with underground, low with high culture, we'll try to lose viewers orientation between personal and public area. In this show as a soundtrack we'll use our special interpretations of well-known pop songs with subtitles and our VJ set on the background. In this way we will try to invite our audience to enjoy such simultaneous fun around the World.
Agnieszka Pokrywka and Agnieszka Prygiel started their collaboration as curators of exhibition during Slot Art Festival 2007 (PL). In 2009 they met again to perform together their audio-visual set during NON STOP MUSIC PLANET on-line event. This moment was fruition of VIADRO project which already existed but just as an idea. In a frame of this project they change their names (Alice Lidell and Maja Persson) and create hybrid audio-visual construction made from pop and underground, low and high culture.
"Maui and the Sun"
by Ellen, Hannah and Joanne (Aotearoa/NZ)

Aotearoa/New Zealand is the 'first to see the Sun' on any given day. This show Maui and the Sun is the retelling of a local tale of how Maui helped his village who were struggling with their sense of time. Avatar graphics with the kind permission of Artist and storyteller Gavin Bishop.
"Machine Divas"
Eva Ursprung (Austria), Sara Schmidt (Germany), Julia Gröblacher (Austria), Helen Varley Jamieson (NZ/Istanbul), Cym (Austria/Netherlands) & Suzon Fuks (Australia)
* what does a machine diva look like?
* does she have a soul?
* are her friends electric?
* is she just after our robots?
* does she control this machine?
* would she make a good girlfriend?
* does she have a tail?
The performance that emerged from a cyberformance workshop at Machine Divas, Vienna, July 2009. Thanks also to Annie Abrams & Marlena Corcoran for voice recordings.
"Open Experimental Zone"
APO33 collective (France)
Falling down the path of black holes, we fear the unexpected…
Feel silence over noise, find a word when there is no tongue. As human beings we thought we could reach beyond ourselves, into a deeper zone, a mind sphere where all united, our senses will open new dimensions.
Using poetry, sound/noise, video manipulation and body action, APO33 collective will investigate their first ZOE (OPEN EXPERIMENTAL ZONE), a mixmedia performance involving all sorts of entropy.