"the old hotel" was performed at the 070707 UpStage Festival with a proximal component at a building site in London – the actual site of a former hotel. This new work leads on from the 070707 performance, starting with the same story but moving to a different perspective.
Once again on-site and online audiences were connected in the performance via UpStage. At this performance, there were 35 online audience (more as some computers had several people gathered around them) and 20 people on-site – the maximum capacity. The online audience were located in Dubai, USA, Spain, Belgium, Poland, Serbia, the Netherlands, Australia, New Zealand, the UK and perhaps other places.
Here's the official invitation: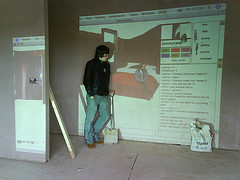 You are cordially invited to attend a new work by Cherry Truluck, in collaboration with artists Suzon Fuks & James Cunningham (Igneous, Australia), Liz Bryce (E-Studio, New Zealand), director Mark Swetz and actor Carolyn Goodyear:
'The Old Hotel'
5th September 2007 at 9pm UK time – find your local time here.
(duration 1 hour)
at 38-40 Glenthorne Road, Hammersmith, London W6 0LS
or online (please load up before 9pm to avoid disappointment) at https://www.upstage.org.nz:8084/stages/theoldhotel
For more details or visit www.cherrytruluck.co.uk
'The Old Hotel' is Cherry's final MA Show for Wimbledon College of Art and has been made possible thanks to Strideline Ltd.