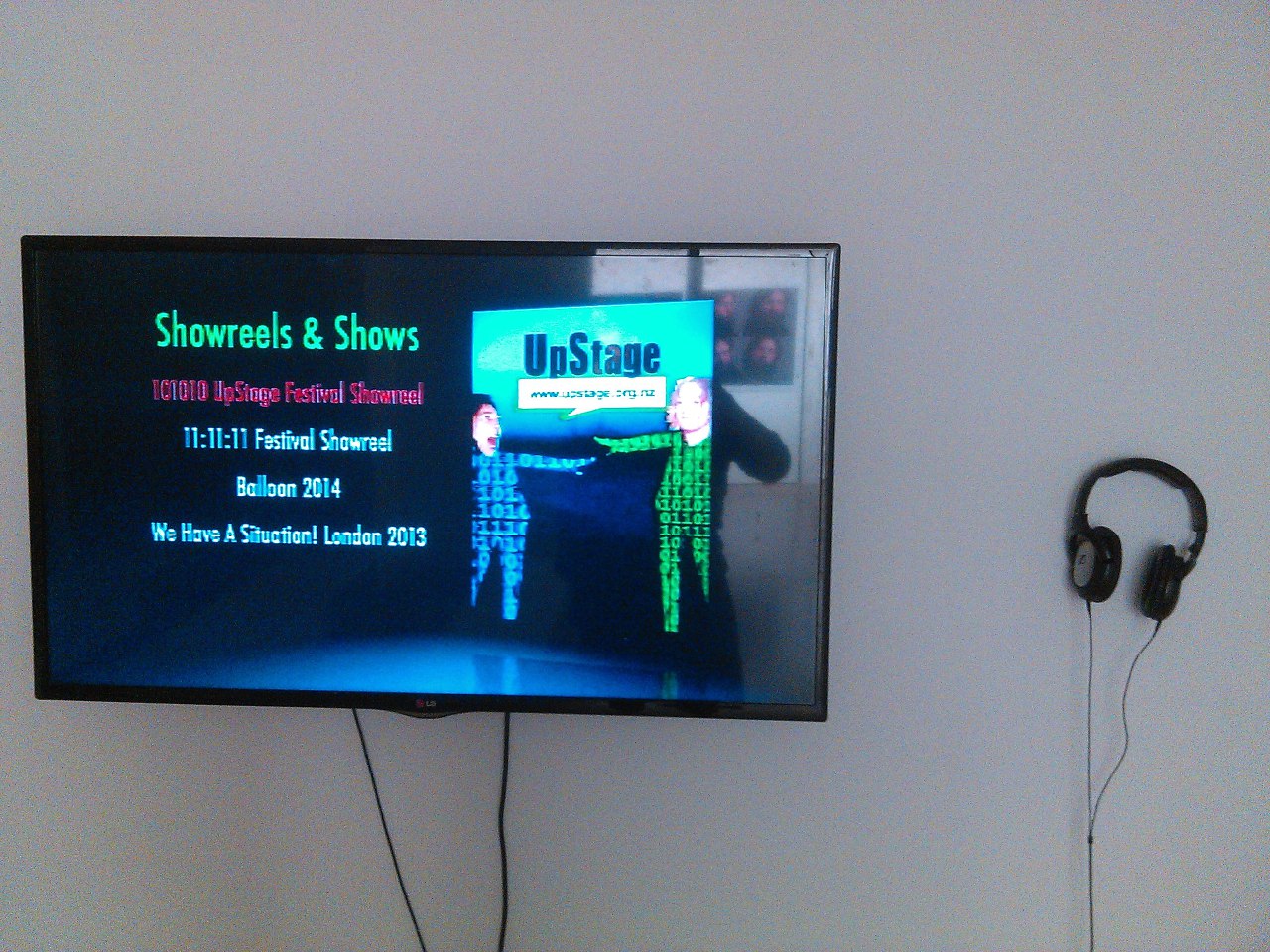 UpStage is featured in the exhibition accompanying the 2016 Libre Graphics Meeting. The LGM is hosted this year by the University of Westminster, and the exhibition will be in the university's London Gallery West, in the Harrow campus. The exhibition opens on 15 April as part of LGM, and runs until the end of May.
If you are in London, we encourage you to visit the exhibition and to attend LGM – it is a vibrant gathering of developers and users of free and open source software for graphics. The exhibition will feature artworks made with FLOSS software, and addresses the LGM theme of 'Other Dimensions'.
Previously, UpStage has been presented at Libre Graphics Meetings in Brussels (2010) and Vienna (2012).
Below is the LGM Exhibition media release.
LONDON GALLERY WEST
LIBRE GRAPHICS
CULTURE AND PRACTICE
15 APRIL – 22 MAY 2016

London Gallery West is delighted to present Libre Graphics Culture and
Practice, bringing together work by artists and designers whose creative
practices are influenced by free software – software whose source code
is freely shared. Enabling new approaches to intellectual property and
copyright, digital artisans and creative technologists have emerged with
concerns around participation, collaboration and co-creation in creative
software development. The selected work allows a critical look at
software as cultural production, rather than just technological tool.

LIBRE GRAPHICS CULTURE AND PRACTICE INCLUDES #ADDITIVISM (MOREHSHIN
ALLAHYARI & DANIEL ROURKE), DAVID BREZNA, RUJI CHAPNIK, PAT DAVID,
JULIEN DESWAEF, PATHUM EGODAWATTA, ERIK FLOCK, MOHAMED GABER, NATHANIEL
GAMA, GIRIN STUDIO, CHRISTOPH HAAG, JOHN-DANIEL HARRINGTON, BRENDAN
HOWELL, CHARLES CELESTE HUTCHINS, BORNA IZADPANAH, SARANG KULKARNI,
LIBRE GRAPHICS MAGAZINE, MANUFACTURA INDEPENDENTE, AOIFE MOOEY, MOREVNA
PROJECT (KONSTANTIN DMITRIEV), VAISHNAVI MURTHY, OPEN SOURCE PUBLISHING,
CHIARA PASSA, JAMES PUCKETT, RELEARN, DAVID REVOY, DAN REYNOLDS,
SANDRINE ROMARIE, MEIR SADAN, POOJA SAXENA, MANUEL SCHMALSTIEG, FEMKE
SNELTING, UPSTAGE, URCHN (BASSAM KURDALI), DAVEY WHITCRAFT AND MURRAY
BOWLES AND OTHERS

The Libre Graphics Culture and Practice exhibition is one of
events running parallel to the 11th edition of the Libre Graphics
Meeting (LGM), hosted by Westminster School of Media, Arts & Design at
the University of Westminster, 15 – 18 April 2016.
https://libregraphicsmeeting.org

Libre Graphics Meeting 2016 is supported by Autonomous Tech Fetish |
Common house www.commonhouse.org.uk,
Bryden Wood www.brydenwood.co.uk, Fossbox www.fossbox.org.uk,
Furtherfield www.furtherfield.org, The Software Sustainability Institute
www.software.ac.uk and the University of Westminster www.westminster.ac.uk

With thanks to the LGM Community, Colin Bailey, Dave Crossland, Hans
Dieter Reichert, John Perez, Alice Pugini, Antonio Roberts, Ashley
Smith, and the Students of BA Graphic Design Communication at the
University of Westminster.

EXHIBITION PRIVATE VIEW
Friday 15 April 2016, 6 – 8pm

EXHIBITION OPENING TIMES
Until 22 May, 9am – 5pm daily
Free admission, open to all.