"Each piece of work during 07/07/07 surprised, amazed and had me glued to the screen, desperate for the toilet but afraid to miss anything! Up to now my practice has primarily been that of live performance, 'real flesh' bodies in space, this experience has opened up a whole new landscape, allowing me to connect with artists across the world without having to travel, to create work that I never expected and hopefully begin to combine/ integrate this virtual form into the world of 'flesh'."
Meg Fenwick, 070707 artist
The following performances were presented at the 070707 UpStage Festival (click here for the schedule of performance times):
Baba Yaga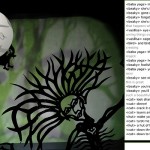 Traditional story adapted and performed by puppeteer and visual artist Rebekah Wild and Vicki Smith (Aotearoa/NZ). Baba Yaga will also feature in the UpStage exhibition, running from 28 June to 15 July at the NZ Film Archive in Wellington. Visitors – both online and in the gallery – can create their own version of Baba Yaga with the avatars, backdrops and props that Rebekah and Vicki have created. Rebekah is based in New Zealand but will perform this show from Croatia, with Vicki on site at the Film Archive.



Come and Go
By Samuel Beckett, performed by Avatar Body Collision: an exercise in reproducing as faithfully as possible Samuel Beckett's precise stage directions and script, in the online environment. Avatar Body Collision are Vicki Smith (Aotearoa/NZ), Helen Varley Jamieson (Aotearoa/NZ), Karla Ptacek (UK) and Leena Saarinen (Finland).
Please stay alert at all times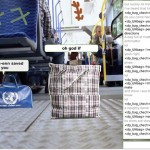 This performance plays with MI5 instructions to 'stay alert at all times' and report 'suspicious behaviour'. Contributors to the performance will include found members of the public who will have engaged in 'activations' in London during the 7 days leading to 07/07/07. Creator/devisor Meg Fenwick (London), visual designer Marischka Klinkhamer (Amsterdam) and performer Julie Devaney (Toronto).
Read Meg Fenwick's statement about creating this show.
the old hotel
Concept by Cherry Truluck, devised and performed by Cherry Truluck (UK), Suzon Fuks (Australia/Belgium), James Cunningham (Australia), Liz Bryce (Aotearoa/NZ), Carolyn Goodyear (UK) and Jonathan Cliffe (UK). Layers of stories and memories found in a building site – an old hotel in Hammersmith, London. The UpStage performance will run simultaneously with a live performance in the original site. More information.
Isis: for my mother
Devised and performed by Marlena Corcoran, with Tamiko Thiel. Loss, fragmentation, searching … the inevitability of losing one's mother, and the ways that we cope. A collage of medical body fragments – x-ray, sonic graph, surgical photo, ultrasound image and others – hints at a female person, but there's always something missing, and something left over. Marlena is based in Munich, German.
Learn to Hear Through the Lies of Your Eyes: The Cyberforming Hybridization of Tuxedomoon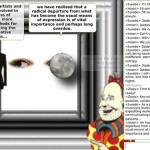 Devised and performed by Miljana Peric, Teodora Peric and Ana Markovic, in Belgrade, Serbia. This cyberformance addresses the position of the contemporary musician in a relation to predominantly scopophilic regime of the Artworld based on information technology. Standard phonocentrical practice will be replaced with poetocentrical praxis by quoting, paraphrasing and mixing up the lyrics of Tuxedomoon. Instead of counterpoint techniques, it involves the counter-soundpointless tactics, which symbolise the protest against disregarded role of music in cyberformances in general.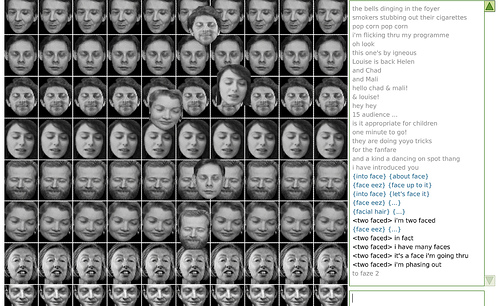 Interface
A face-to-face meeting on the surface of the interface, devised and performed by Igneous (Australia/Belgium) and Helen Varley Jamieson (Aotearoa/NZ).
The Rabbits
A contemporary Australian picture book about colonisation by John Marsden and Shaun Tan, adapted and performed by Louise Phillips (Australia) and Helen Varley Jamieson (Aotearoa/NZ). The Rabbits is presented with the permission of the author, illustrator and the publisher, Hachette Livre Australia Pty Ltd.
The Best Air Guitar Album in the World Vol. II
Anaesthesia Associates will virtually rock you, performing a 21minute audiovisual mashup live in UpStage. They will manipulate audio samples from the double CD compilation 'The Best Air Guitar Album in the World Vol. II', and mix these with video samples of the world's best air guitarists that they have managed to find on YouTube. They will be performing live from the New Zealand Film Archive in Wellington – come and watch.
www.anaesthesiaassociates.net
www.myspace.com/anaesthesiaassociates
Freeze, Flight and Fight, or main reactions to rejection
A cathartic cyberformance, on the way to acceptance 'with glorious rays of hope, humour, and tribal encouragement' … please, prepare your letters of rejection, how did you feel about them, your stories …
Devised and performed by Igneous (Australia/Belgium).
Misflight
Embark on a journey to a place where flights of fancy are commonplace for traditional beings, where traditional rules are constantly being broken and new designs are created, devised and performed by Megan Jupin (New York City, USA) and Kristin Carlson (Auckland, New Zealand).
Ophelia_machine
This performance contains some strobing graphics and adult content.
Every woman is an Ophelia. In Ophelia_machine, join us in a journey of self discovery from submission to transformation … oh, and Hamlet won't be there.
The performance uses extracts from Shakespeare's play Hamlet and Heiner Muller's play Hamlet Machine. Created by Marischka Klinkhamer (Amsterdam), Gabi Schmidberger (Hamilton, New Zealand) and Maria Chatzichristodoulou (UK/Greece).
Paraiso
Taking the shape of a miraculous appearance, "Corazon_Desfasado", some sort of illegal hybrid saint, reveals to us messages of redemption.
Devised and performed by Helena Martin Franco (Montreal, Canada). www.corazondesfasado.com and performance documentation.