See more in the 101010 Preview Trailer.
Starting at 8pm New Zealand time on Sunday 10 October (find your local time here) the 101010 UpStage Festival will run for approximately 20 hours and features performances by artists from around the world. The full schedule will be published here in the next day […]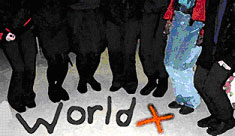 World X was a virtual exchange project using UpStage, between a group of young people from Eltham Hill Secondary School in London, England, and from Westland High School, Hokitika, Aotearoa/New Zealand. It took place in the first half of 2004.