The next open walk-through in UpStage will take place next week on Wednesday 2nd December, at 9pm NZ time, which is 9am if you're in Europe. Find your local time here.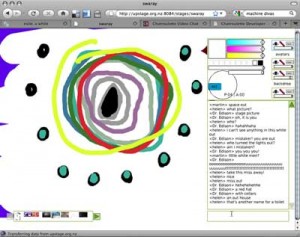 The open walk-through is an opportunity for you to learn about UpStage and gain an understanding of its basic operation. it's also a chance to network with other UpStage users, share what you've been doing, collaborate and get inspired.
If you don't have your own username, you must email info@upstage.org.nz for a guest log-in (the passwords are changed every month so you can't reuse the same guest log-in from a previous walk-thru).
If you have your own username then just log in and come to the Swaray stage.
you can also attend the walk-thru as an audience member without logging in, just point your browser at the Swaray stage and join in.