As we come to the end of 2014, the year that marked a decade of UpStage, we would like to thank everyone who has played a part in the activities this year and wish you all the best for the coming year.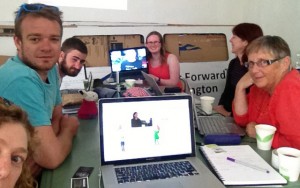 In January, we celebrated the official 10th birthday of UpStage – the platform was first launched on 9 January 2004 – with a mini festival comprising three cyberformances, a symposium on remote collaboration, a planning meeting for the future of UpStage and the launch of UpStage v3.
With the release of the third version of the UpStage software, we made the decision that this will be the last version; during the ten years since UpStage was first developed, by Douglas Bagnall, there have been significant technological advances and many other developers have been involved in the project, bringing new ideas and approaches. We have now begun to plan the development of a new platform that will retain the best features of UpStage while taking advantage of many new possibilities and improvements in technologies. The initial research and planning is being undertaken by the ongoing AUT student teams, and we welcome the involvement of other open source developers. Read the developers' blog here.
During 2014 we had an additional student team working on the development of a new web site; this has been completed, and in the coming months we will transfer the content from the current site to the new. A feature of the new site will be changing banners, to show the diversity of the UpStage community and the breadth of creativity; everyone is welcome to contribute your own image of UpStage.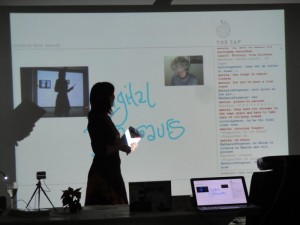 As usual, there have been many performances, presentations and open walkthroughs throughout the year, and publications discussing UpStage. Most recently was the launch of CyPosium – the book, with a live performance on Waterwheel Tap of excerpts from the book, by many of those involved in the CyPosium. A recording of the performance is available here and the book can be purchased or downloaded (free) here.
Heartfelt thanks to everyone who has donated their time & money to make 2014 a very special year in the story of UpStage, and supported the continuation the project despite it being completely unfunded at this time (we welcome donations at any time of the year!).
We look forward to continuing this adventure with you in 2015, and wish you all a happy and peaceful new year.