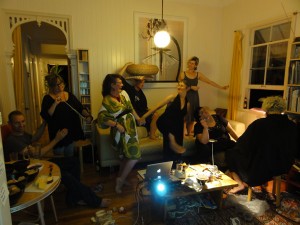 On Friday 12 April at 12.10pm UK time, Paula Crutchlow and Helen Varley Jamieson will give a make-shift presentation at the Remote Encounters conference in Cardiff.
Click here to find your local time here; and click here to enter the live stage at the time of the presentation.
The performative presentation will use the project's purpose-built online interface – UpStage in combination with live streams – to connect the symposium venue (with Paula) and a location in Nantes, France (with Helen) in real time. Fragments of performance materials will be contextualised by a discussion of the co-authorship systems at play within the work. We will focus particularly on the multiplicitous use of domestic space, and how this collision of public/private is used to enable new experiences of participation, collaboration and embodied experience of remote interaction that leave lingering questions around the nature and consequences of connectivity. The presentation will be made freely available to online participants to join, and we would include provocations for audience interaction in both the on-site and online space to demonstrate how the interactivity and live co-authorship of make-shift works.