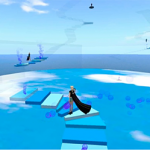 One of the performances selected for the 121212 UpStage Festival of Cyberformances is part of a larger project which has included other live performances and a series of comic books. "Learning to Fall" artist Lynne Heller has announced the launch of the sixth and final comic book in the first series of The Adventures of Nar Duell in Second Life (2007- ), "The Low Life Epic".
This publication was inspired by a recent 'happening' that occurred in Second Life (the online virtual world), called "Learning to Fall". Part of the Up and Under the Stairs event, it featured Lynne Heller along with three other artists each operating avatars in Second Life from their respective studios in Malibu Beach, Rotterdam, and Brooklyn. Kim Mitseff appeared as Cherry Daiquiri, Inge Hoonte as Nar Dufaux, and Noelani Kidder as Nar Darwinian. A sincere thank you to Dennis Schaefer/Douglas Story for sound assistance and Desdemona Enfield for programming support.
If you are interested in viewing a low-resolution version online, please visit this link: https://lynneheller.com/pdfs/comics/06_low_lives.pdf
To purchase a signed limited edition print piece, please visit Art Metropole https://www.artmetropole.com or contact me directly mailto:contact@lynneheller.com.
Artist Statement:
In this virtual performance, Nar Duell – a naive but intrepid super-heroine — comes to terms with the humiliation of defeat and gains a new perspective on life. Previously in her last adventure of the series The Adventures of Nar Duell in Second Life, she had set out to experience the seven deadly sins in Second Life within five minutes, but only achieved two and a half.  Searching to find her way after abject failure, Nar resumes the adventure by endlessly ascending and descending a celestial staircase — and ultimately meets her destiny.  Special appearances by Nar's BFFs, psychic Cherry Daiquiri; and alternative avatars, The Alts (Dufaux and Darwinian); with cameo role by familiar frenemy, Drag On.
Lynne Heller's current work, The Adventures of Nar Duell in Second Life (2007- ) explores social exchange and notions of self and other in various contexts.  Through both execution and composition, she bridges the perceived opposites of physical and alternate spaces and identities by creating performance, installation, graphic novel and video works which span real and virtual platforms.  In her process, she has conceived a novel methodology for constructing artistic narrative, one which humorously and sincerely builds upon personal experiences and endless re-contextualization.