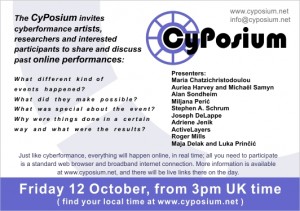 An online symposium on 12 October 2012 will celebrate and discuss the field of cyberformance – live, online performance – that has evolved over the last two decades.
The CyPosium aims to create a space for artists, researchers and interested participants to discuss the field of cyberformance, referring to and remembering past works. The programme includes nine presentations and an introduction, and facilitated discussion sessions. Some of the pioneers of online performance will discuss live internet works created in chatrooms during the mid-1990s, alongside artists currently working in a variety of purpose-built cyberformance platforms.
The number and quality of proposals received made the selection process challenging, but this was also an affirmation of the timeliness of this event. There is now a considerable body of work, research and critical thinking in this field, and a desire amongst practitioners to share and discuss their experiences with their peers.
The CyPosium will open with an introduction by Maria Chatzichristodoulou, who is a cultural practitioner and digital performance scholar at the University of Hull (UK). There will then be three blocks, each consisting of three presentations followed by a facilitated discussion with the online audience, and breaks between each of the blocks.
The CyPosium will begin at 15.00 GMT on Friday 12 October and finish at about 2am GMT; the complete schedule is available on the CyPosium web site. The CyPosium is free to attend and will be accessible via a standard internet connection and web browser.
For more information, visit www.cyposium.net or email info(at)cyposium.net
Selected Presentations
(bios and abstracts can be found at https://www.cyposium.net/selected-presentations/)
Introduction
Cyberformance? Digital or Networked Performance? Cybertheaters? Or Virtual Theatres? … or all of the above?: Maria Chatzichristodoulou
Block 1
Wirefire: A Complete History of Love in the Wires (parts 17–24): Auriea Harvey and Michaël Samyn
We Have Always Been Avatars, and Avatars Must Die: Alan Sondheim
More/Less Than a Cyberfession: A few theoretical short-(cir)cu(i)ts from Learn to hear through the lies of your eyes: Miljana Perić
Block 2
ATHEMOO and NetSeduction: Censorship and The Art of Sexting Before Cell Phones: Stephen A. Schrum
HEAD SHOT! Performative Interventions in Mixed Realities: Joseph DeLappe
So far, and yet, so close: Lessons from Telematic Improvisation: Adriene Jenik
Block 3
Re-Calling Home!: ActiveLayers
Ethernet Orchestra: Networked Intercultural Improvisation: Roger Mills
Transmittance — a telematic performance: Maja Delak and Luka Prinčić
The CyPosium is organised by Annie Abrahams, Christina Papagiannouli, Francesco Buonaiuto, Helen Varley Jamieson, Katarina DJ Urosevic, Martin Eisenbarth, Nathalie Fougeras, Suzon Fuks and Vicki Smith.