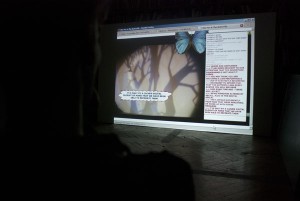 Constructed from the digital traces of past cyberformances, The Net and the Butterfly is an allegorical cyberformance about the challenges of documenting live online performance, transforming conventional notions of the separation of 'live performance' and 'performance documentation'. It was created by Francesco Buonaiuto, Helen Varley Jamieson and Vicki Smith for the TaPRA symposium Documenting Performance: Exploring the Problems (7 May 2011) and reperformed at PANik3 (Vienna, 26 September 2011).
Now, the performance script has been published in the International Journal of Performance Arts and Digital Media Volume 10 Issue 1, 2014, which is a special issue on "Interdisciplinary Approaches to Documenting Performance". The article forms another layer in the process of documenting a cyberformance.
A limited number of full-article downloads are available here, or you can purchase the article or whole issue here.