The second in this series of networked performances and discussions will take place on Friday 12 April at 19.30 CET (find your local time here) following a four-day workshop at APO33 in Nantes, France.
Click here to enter the live stage.
We have a situation! addresses local issues in different European cities; the first took place in London on 23 March and explored e-waste – including what the UK government is doing about it, EU regulations that will soon be implemented, and the actual reality of 77% of the UK's e-waste being illegally exported to highly toxic sites in West Africa. Documentation from the London situation is being gathered on the We have a situation! web site. At right, a game of "pass the parcel" was part of the performance (photo by Katerina Hayek).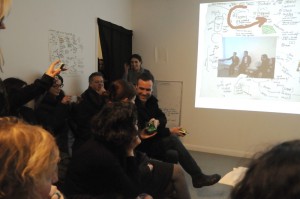 We have a situation! is using a new version of UpStage which incorporates live audio-visual streaming into the UpStage interface. As usual, audiences only need to click on a link (provided here and on the We have a situation! web site on the day of the performance) to join the performance and discussion.
Please note that UpStage still requires the Flash player plugin and therefore does not work on iPads, Kindle, or other mobile devices.