At Fondazione Querini Stampalia, Venice, 9pm local time (find your local time here).
"Salvation" brings together stories of rescue and redemption at the crossroads of land and water, New York and Venice, heaven and earth, literature and technology. Original lyrics in English feature the story of a woman who almost drowned in New York harbor, and the story of the wedding of the Venetian doge with the sea. In the background, we hear a man intone in Italian the instructions for what to do if someone falls overboard from a vaporetto: cast a life-saving ring into the sea. The ferry boats that rescued the passengers of the plane that landed in the Hudson River are hailed by the tolling bells of the Venetian Church of the Redeemer.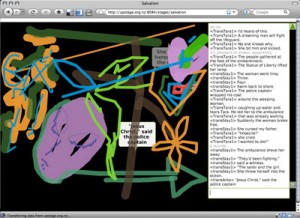 "Salvation" is created by Marlena Corcoran, and performed by Marlena, Tara Rebele and Julian Hermann, with performance drawing by Antoinette LaFarge, and technical support by GetFriday. It is presented by Concordanze / Altre lingue, altre poetiche nel contemporaneo, as part of the Venice International Literary Conference, Incroci di civiltà. A networked performance, "Salvation" was projected live in different locations around the world. A video recording will be made of the performance and shown at the Querini Stampalia throughout the conference Incroce da Civilta.