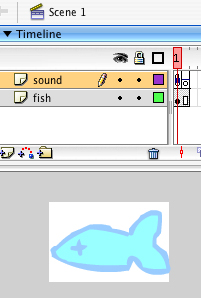 Case: Little Polka Fish .Fla
The Polka Fish is a little fish that plays polka on command. It was made using Macromedia Flash.
In this case I have created two layers, one for the image and another for the sound. I drew the fish and imported mp3 file to Library.
1st frame:
image and
mp3 file with settings: sync: stop, repeat 0
To the sound layer add actionscript: stop();
2nd frame:
image and
mp3 file with settings: sync: start, loop
(As an alternative to loop, one could use repeat [n] to have the sound file play as many times as one would like to.)

Settings for the 2nd frame. (Action scripts can be edited by clicking the little arrow icon on the right).
Then just publish the file on Flash and upload on Upstage.
Player control on UpStage: type /a 2 to start the sound and it'll loop until you type /a 1 to stop it.
Note: apparently, to get audio to play in Flash for UpStage, it will not work if it is in the first frame; it has to be in the second.