CONTACT

To contact the UpStage team,
To receive announcements about regular events such as the monthly open sessions, join our Announce list.
If you are a programmer and would like to get involved in the project, please email info@nullupstage.org.nz and also join our Developers' list.
The UpStage Team
Helen Varley Jamieson: originating artist, project manager, festival architect and co-curator
Vicki Smith: originating artist, designer, workshop facilitator, festival architect and co-curator
Douglas Bagnall: software design, technologist
Paul Rohrlach: developer, server administrator
Francesco Buonaiuto: archivist
Heath Behrens: developer, server administrator
Vibhu Patel: developer
Past Team Members
Karla Ptacek: originating artist
Leena Saarinen: originating artist, web design
Since 2006, teams of students from Auckland University of Technology have worked on UpStage for their final year assessment project. The AUT partnership is co-ordinated through lecturer Anne Philpott, and has been very beneficial to the ongoing development of UpStage – thanks a lot!

In 2014 a team of web developers are also joining under the tutelage of Gisela Klette, they are; Fan Yang, Matt Jiang, Scott and Albin Cyriac.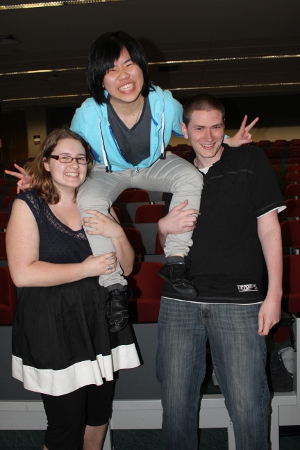 Contributing students as developers:
2014: James, Takuma, Mikhail
2013-2014: Vanessa Henderson, Nikos Philips
2013: Lisa Helm, Nitkalya Wiriyanuparb and David Daniels (pictured at right)
2012-13: Scott Riddell, Gavin Chan and Craig Farrell
2012: Benjamin Qin and Daniel Han
2011-12: Nessa Baterina, Karena Goh and Corey Robb
2011: Heath Behrens and Vibhu Patel
2010-11: Mohammad Al-Timimi, JR Malonzo and Henry Goh
2010: Tom Choi, Paul Rohrlach and Craig Farrell
2009-10: Natasha Pullenster, Nicholas Robinson and Shaun Narayan
2009: John Coleman and Vishaal Solanki
2008-09: Shaun Nesbitt, Wendy Wen and Candy Yang
2008: Aaron Barnett
2007-08: Alan Crow and Tony Wong
2007: Endre Bernhardt, Lauren Kilduff and Phillip Quinlan
2006-07: Beau Hardy, Francis Palma, Lucy Chu and Wise Wang