ABOUT

UpStage is a web-based venue for online performance; it is an open source server application that has been in development since 2003 thanks to support from the Smash Palace Fund. The second version of the software was developed with funding from the Community Partnership Fund of the New Zealand government's Digital Strategy and released in June 2007.
"It is a fabulous and strange conjunction of dramatic and artistic devices. I was transfixed by the complex new possibilities opened up by the tool." Ruth Catlow
Online audiences anywhere in the world participate in live performance events by going to a web page, without having to download and install any additional software. Check out these videos from the UpStage festivals to get an idea of what it's all about.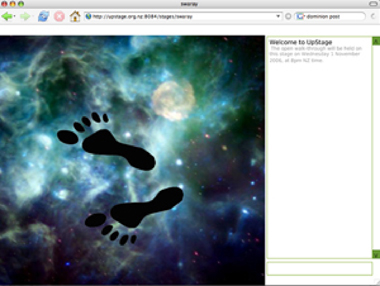 The audience interface: audience members can interact with the performance by typing into the chat window beside the stage.
Players (logged-in performers) have a variety of tools at their disposal on the stage, which allow the manipulation of avatars, backgrounds and props which have been previously created and uploaded. Avatars' speech appears as speech bubbles on stage and is spoken aloud by text2speech functionality. Players can also draw directly onto the stage in real time.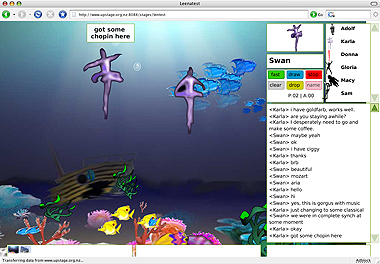 The player interface: logged-in players have access to tools with which to construct a live performance.
UpStage is a live interactive medium, so the best way to experience it is to attend a performance or join one of open walk-throughs, which are held on the first Wednesday of the month. Dates and times are announced on this site and the Open UpStage foyer, and you can subscribe to the UpStage Announcements list.
Back in early 2007 we prepared some demo videos which demonstrate the basic functionalities of the UpStage; since then UpStage has been enhanced to version 2.01 (as at May 2008) but alas we've been too busy to make new demo movies yet … these will have to do in the meantime:
Background
The UpStage project team members have been experimenting with various forms of online theatre since 1999, and since 2002 have worked together as the globally dispersed performance troupe Avatar Body Collision. The idea for UpStage was born from our experiments with using a variety of online chat technologies.
In most of Avatar Body Collision's work, three actors perform online, live, in real time, while one actor performs in the proximal space of the hosting venue. The remote performers appear projected on a screen, using web cameras and avatar world technologies.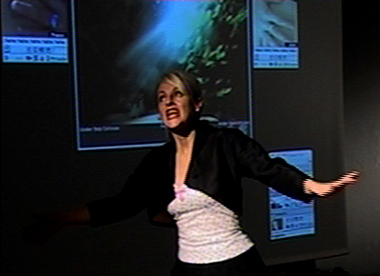 Cyborg malfunctioning on Avatar Body Collision performance "Laggining with the Lololols". Bremen 2004.
As the performances are delivered via several different mediums, it has not been practical for audiences to follow the show on-line. UpStage has changed all that. The software combines the various elements of virtual performance into a single web page. The audience simply points their browser to the UpStage web site at the appointed time, to watch and participate.
There is now a growing body of writing about UpStage, cyberformance and related projects; we are compiling links to relevant research on this site.
UpStage is available free to anyone who would like to use it.